Head of Financial Institutions Dept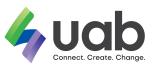 Primary target is to acquire and maintain relationships with banking partners both foreign and local. These include establishing correspondent relationships and establishing banking facilities with partners. Only candidates with the necessary experience may apply.
Find out more about the jobs by going to the link below:
https://www.uab.com.mm/join-uab/
𝗔𝘁 𝘂𝗮𝗯 𝘄𝗲 𝗱𝗼𝗻'𝘁 𝗷𝘂𝘀𝘁 𝗼𝗳𝗳𝗲𝗿 𝗷𝗼𝗯𝘀,
𝘄𝗲 𝗼𝗳𝗳𝗲𝗿 𝗖𝗔𝗥𝗘𝗘𝗥𝗦.
📧 Send your CV now at careers@uab.com.mm