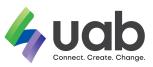 The Senior Credit Manager will manage credit risk across Corporate, Commercial and Retail lending activities. He/She will ensure quality of credit underwriting and compliance with credit standards and norms. The candidate will have a strong understanding of all aspects of bank lending ranging from loan origination, underwriting, security documentation and loan administration. Only candidates with the necessary experience may apply.
Find out more about the jobs by going to the link below:
https://www.uab.com.mm/join-uab/
𝗔𝘁 𝘂𝗮𝗯 𝘄𝗲 𝗱𝗼𝗻'𝘁 𝗷𝘂𝘀𝘁 𝗼𝗳𝗳𝗲𝗿 𝗷𝗼𝗯𝘀,
𝘄𝗲 𝗼𝗳𝗳𝗲𝗿 𝗖𝗔𝗥𝗘𝗘𝗥𝗦.
📧 Send your CV now at careers@uab.com.mm