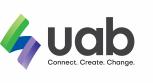 Sustainability is a critical focus area for many companies particularly at this time where climate change and wellbeing of the community matters. Since 2017, uab bank has been increasing applying Environmental, Social & Governance (ESG) standards in the way it runs its business. These are primarily non-financial goals and in each passing year, the Bank has been increasing aligning its business strategies with its sustainability goals.
We seek a Sustainability Executive to assist in managing the sustainability effort of the Bank. The ability to independently research, write and verbally communicate is critical to this job role.
Responsibilities
Gather data on usage of energy, electricity, water and waste that affect sustainability and the carbon footprint of the Bank
Communicate with stakeholders on sustainability programs and get feedback on what issues matter to the community.
Assist in producing the Annual Sustainability Report of the Bank
Assist and research through material that will enable development of ESG Policy for the Bank
Implement the ESG Policy across the Bank including educational programs on environmental issues
Conduct audits on the Bank's compliance of international standards and best practices for sustainability
Organise projects that will enable the Bank lead in change that will be beneficial to the community
Requirements
University degree in any relevant field
Experience is not essential and fresh/young graduates may apply
Interest in the ESG topic is critical
Independently researching into an ESG topic is an important part of the job
Good writing skills in English are very essential since public reports will need to be produced by the Sustainability Team.
Presentation skills are required for reporting to stakeholders
Some knowledge of Business Intelligence tools for reports are useful
Apply with your CV to careers@uab.com.mm.
Please ensure that you state "Sustainability Executive" in your email.
uab bank is an equal opportunity employer.